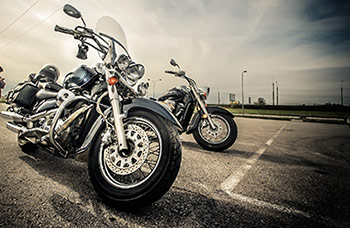 It pays to think about how you're going to protect your motorcycle from accidents, bad weather and more. This and many of your other "toys" can, in many situations, be added to your existing auto policy. Common types of motorcycles we can insure include, but are not limited to, cruisers, custom motorcycles, mopeds, scooters, dirt bikes, vintage and antique motorcycles, sport and high performance motorcycles.
Types of Coverage
Custom Equipment & Accessories
Custom equipment and accessories coverage includes special touches you've added to your motorcycle. This may include custom paint, chrome, saddlebags and more.
Full Replacement Cost
Full replacement cost coverage will, in many situations, return your bike to pre-acccident condition.
Gear and Personal Property
Gear and Personal property coverage can help recover costs for riding gear and personal property you carry on your motorcycle, whether it is damaged or stolen. Items may include helmets, riding boots, protective eyewear, camping gear, safety equipment and even phones.
Total Loss for New Bike
Total loss coverage is available if your bike is one to two model years old, depending on the policy. If your bike is totaled, many policies will give you the full manufacturer's suggested retail price (MSRP) for a brand new motorcycle, minus your deductible.
Medical Payments
Medical payments coverage can help pay for covered injury expenses.
Roadside Assistance
Roadside assistance is available for those instances where you may be stranded by your bike.