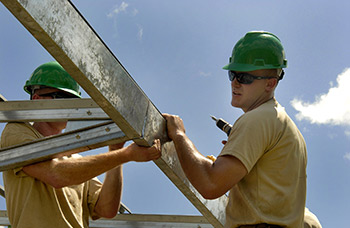 With the proper mix of policies, endorsements and services, contractors insurance can give your business the protection it needs from property damage to tools to general liability, workers' compensation and commercial auto insurance needs.
Why You Need Contractors Insurance
General contractors, contractors and subcontractors are usually required to carry contractors insurance by law and by businesses they may work for.
Types of Coverage
General Liability
General liability coverage can be a safeguard when a third party alleges bodily harm, injury or property damage caused by your negligence. General liability insurance coverage is commonly found bundled in with other coverages in a business owner's policy. If you do not want the extra coverages found in the business owner's policy, you may be eligible to get contractors insurance with general liability coverage.
Commercial Vehicle
Commercial vehicle policies insure you and your drivers. This coverage works for a wide variety of commercial vehicles and trailers commonly used by contractors.
Vehicle types Include, but are not limited to:
pickup trucks
dump trucks
tow trucks
tilt trailers
low-boy trailers
gooseneck trailers
Workers' Compensation
Workers' compensation insurance can be used in a situation where an employee suffers an injury or disease during the course and the scope of their employment, regardless of negligence on your part.
To learn more about this insurance coverage, please visit our Workers' Compensation page.